Situated in the village of Stillington on a former tipped area, (see below) this land was landscaped and planted with trees during the winter of 1994/5. A series of footpaths allows the visitor to explore the Forest Park, in amongst the developing woodland and wildlife ponds, one of which contains species of freshwater fish (roach, rudd, mirror carp, tench, perch, common carp, crucian carp), and is a popular angling spot.
There is a wooded area towards the top of the hill, which has a pathway leading through it, and is a wildlife hotspot. The landscape is mainly grassland, with patches of woodland and is particularly good for butterflies and dragonflies in the summer months.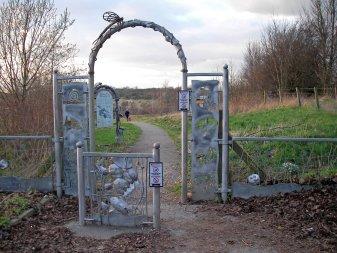 In July 2013 the Enviromental Agency was granted funding of £13000 to provide 12 new fishing pegs.
these have now been installed, are are ready to be enjoyed
also Darchem Engineering kindly donated 6 new picnic tables made by their Apprentices and installed by Stockton Borough Council
2018 With agreement between SBC & Banks Wind Turbine Project a 25 yr management programme was instigated and the primary footpaths were renewed also extensive undergrowth cleared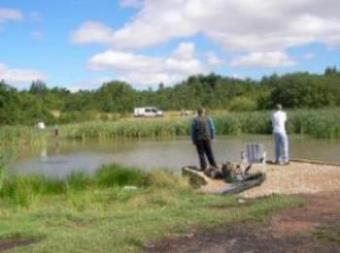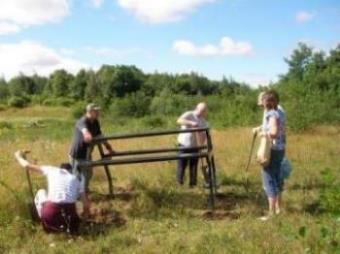 .......................................................................................
Stillington - Friends of the Forest Park
At a public meeting arrange by Stillington and Whitton Parish Council local residents decided to form a 'Friends of the Forest Park' group. The group works with local people, the Police and Stockton Borough Council to reduce the anti social behaviour that may occur on the site eg litter, fires, dog fouling, local people assist with practical work on a more regular basis and are a more active presence on the site to try and deter some of the problems that can occur there, also activity days have been arranged at the site over the summer months each year. In the longer term the group will be able to access funding to improve facilities at the park for all visitors
We would like as many people as possible to register as a 'Friend of the Forest Park'. You may do this because you just like to visit the site occasionally or regularly and want to offer your support, you may want to be involved with work at the site or attend an occasional meeting - but there will no requirement for anyone to do this even if you are registered as a 'Friend'.
If you would like to register please call Gwynn Dunn on 01740 631204, email-stillingtonandwhittonpc@gmail.com
or Judith Turner on 01740 630024,
-----------------------------------------------------------------------------------------------------------------------------------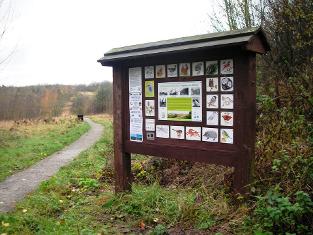 Parking is provided by a formal car park next to St John's Church and close to the main site entrance which features some attractive metal artwork. by Sculpture Artist - Graham Hopper
Inside the Park, close to entrance is a notice board
with maps, information also Featured Tile Artwork by Stillington Art Group


Stillington Forest Park Support
SBC Enforcement - 01642 528 493

Community Police - 01642 30 29 30
Community Police Support - 01642 30 66 04
Police Incident Room - 01642 326 326

,
__________________________________________________________________________________
All Below are Illegal activities in Stillington Forest Park (Regardless of being anti social or not)

Lighting Of Camp Fires, Overnight Camping, Littering, Under age drinking,
Overnight Fishing,
Environmental Damage
Contact the Rangers at Wynyard Woodland Park
on (01740) 630011 for further information.
THE SITE OF THE FOREST PARK up to late 1970's
This spectaclar view of the Slag heap is taken from the top of the Black Bank. The roofs of houses of Lowson Street show on the right and gives some idea of the height of the tip and the amount of slag tipped during the years that the Iron Works was functioning. Before the start of removal in 1968, the tip dominated the village on the northern side of the Clarence Railway and was regarded as a superb adventure play area by the children. The slag removed was used in building the A1 (M) at Brafferton area
Giving Nature a helping start
The site lay as derelict land until the early 1990's when the site was cleared and landscaped to form The Forest Park. Trees were planted by residents and pupils of William Cassidi School and Stockton Borough Council took over wildlife management of the site
Photos courtesy of John Swales (click to enlarge)
After Landscaping and before Planting and Development