Editorial by Bethany Johnson - Film Studies (Journalism Module) at Bangor University Dec 2020
The Forest Park
Stillington, Stockton on Tees
Stillington Forest Park is a beautiful nature reserve, located between the church and village hall. It is a place to meet, walk dogs, exercise or have a relaxing day of fishing but it was not always this tranquil and scenic place that we have known for the past 16 years.
As soon as you walk through the metal archway entrance it is like entering a whole new world, you step inside and are immediately surrounded by trees and plants.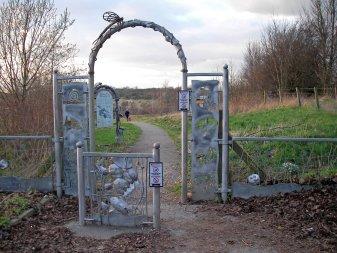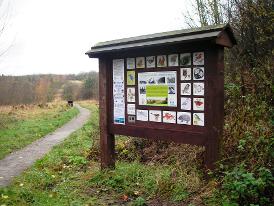 One woman, 20, who has grown up in Stillington said "me and my brother used to go fishing and build dens up there and then race through them. We would talk about family issues freely there. It was honestly the closest we've ever been."
To your right is a beautiful notice board with tiles which show the animals you are likely to see throughout the park, created with love by the Stillington Art Group for a community involvement project as well as some maps and information about the area.
For many in the community, the park is a place filled with fond memories and for others, it is simply a beautiful area to spend time in. It is a place loved by all who visit it.

Nikki Hillerby, a newcomer to Stillington said "my husband and I feel really lucky to have such a wonderful place on our doorstep to walk our dogs and marvel at the countryside."
-The History-
Up until the late 1970's the site which now holds the nature reserve was in fact a 'slag heap' as from the onset of iron production in the village (1865), iron slag was being dumped at the northern boundary of the site.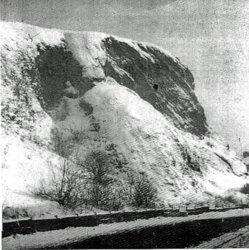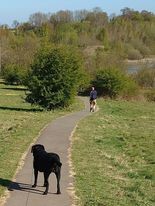 I

t is hard to believe the difference in the area, looking at this photo provided by Gillian Scott, the pile of slag replaced by fresh green grass and leaves.
This continued for more than 50 years which resulted in a mountain which dominated the skyline (shown in this photograph). Before its removal many children used it as an adventure play area.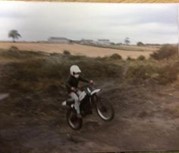 Helen Parsons said "I reckon there's a number of people… who have the scars to prove they played on the slag heap! Once that stuff gets under your skin it's like a tattoo - scarred for life! I haven't got the scars but my sister has - there must be others of our age (40+) that would have the odd graze etc up there!" (photos provided by Ian Calvert)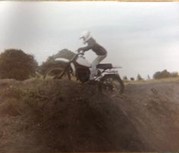 In 1914, the removal began as a slag crushing plant, known locally as 'The Cracker' due to the sound of slag with explosives, was opened by the Stillington Slag Company who recycled the iron and sold it as a road making material, creating a hole which became known as 'The Cracker Hole'.
It has been noted that even at this time colonies of Jackdaws, the smallest of the crow family, would roost among the slag remains until the tip was entirely removed in 1970.
An ecological survey was taken in 1989 by Cleveland County Council (now known as Tees Valley Wildlife Trust) with a view for reclamation of the tip.
The site then became derelict land until the early 1990's when it was cleared and landscaped in order to form what we now know as The Forest Park. Trees were planted by residents and pupils of William Cassidi School and Stockton Borough Council then took over wildlife management of the site.
During 1995/96 the Environmental Consultants designed and implemented the Stillington Forest Park Scheme.
Samuel Sayer said "I remember planting trees there as a school kid, I'm sure a time capsule got buried too."
Rachel Farley added "we did! We planted a time capsule with all our names on it and I'm sure we even put some cd's in too with all of us singing - songs of praise no doubt - and a copy of that day's paper. I'm really trying to remember what else now, probably all mad and random stuff like poggs, marbles, a top 40 cd/cassette but definitely a newspaper."
Here is a picture of the land after being landscaped but before trees had been planted

The land was then capped with a layer of clay in order to cover any remaining slag and opened as a Country Park in 1995 to benefit wildlife and visitors, eventually gaining its Local Nature Reserve status in February of 2004.
I
n July of 2013 The Environmental Agency was granted funding of £13000 to provide 12 new fishing pegs which have now been installed and are ready to be enjoyed. Darchem Engineering also kindly donated six new picnic tables which were made by their apprentices and installed by Stockton Borough Council.
Local artist, Shirley Wells, shows the true beauty of the Forest Park with her photographs which are shared on the Stillington Community website with a very positive response from those who couldn't get out due to Coronavirus. She also creates beautiful artwork from her photos such as that shown here.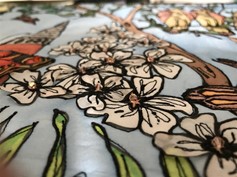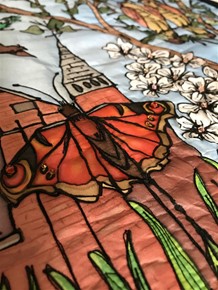 -The Importance Of Our Reserve-
The initial management plan for the Forest Park was created in order to 'identify and fulfil the site's potential as an area for education, recreation and conservation'.
In order to do this they aimed to maintain good access and the characteristics of the area to ensure its future longevity, to provide a safe environment for the public and wildlife, to raise biodiversity in the area and maximise opportunities for schools and
other groups to use the area as an environmental, educational and recreational resource.
T
hese are only a few of the initial aims which have now been successfully implemented in the park.

Due to the national decline in the habitats which the wetlands in our Forest Park provide, the area has an important role to play in an educational, recreational and conservational context. The dragonflies are a very special visitor, regularly sighted there.
Over 100 vascular species have been recorded at the site, all of which is due to planting programmes or colonisation and while most are of little conservation value, they are of huge value as a food source for invertebrates.
The area of scrub is an important historical and natural site as it is the only remaining compartment of semi-natural habitat left in Stillington, therefore meaning it is the only mature habitat on site. This area allows the movement and colonisation of species from this area into the other areas on site.
- The Impact On The Community -
While of course the impact of the Forest Park is important for the environment, the impact of the nature reserve on those who live in or visit the area is undoubtedly the largest.

Many events have taken place throughout the years such as orienteering and guided walks as well as the entry of Village Competitions in order to promote it.

There is also a 'Friends Of The Forest Park' group which was arranged during a public meeting where Stillington and Whitton Parish Council local residents decided to form a group which would work with local people, the police and Stockton Borough Council in order to reduce anti-social behaviour such as litter, fires, dog fouling, etc and also allow for local people to assist with practical work on site on a more regular basis as well as having a more active

presence on the site.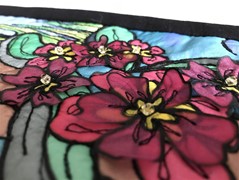 In the longer term the group hopes to gain access to funding in order to improve facilities in the park for all visitors. This also means that they would like for as many people as possible to register as a 'Friend', members may want to do this simply because they enjoy visiting the site or want to offer support, or they may just want to be involved with work at the site or attend an occasional meeting however there is no requirements within the group. Members can feel free to take part as much or as little as they are happy to.
One key concern of many in the village is the litter left around the fishing ponds. Tom Bell said "I remember fishing there when I was a kid. The pond area was mint, never had a problem. Then when moved up here two years ago - always had a thing for fishing hence why I moved up here - but watched the place deteriorate over time
"Myself and a lot more people try and tidy the place up but it's a

disgrace from a fisherman's point of view. People come and disrespect the pond, littering in and around the area because this is a free pond to fish in.

"This could be made into a beautiful place ideal for fisherman and

walkers with their dogs and children... we need help from the council as it needs constant monitoring to stop the littering and it is also needing more bins as there is only one.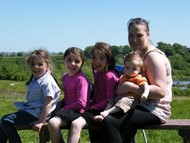 Dewi Johnson agreed in saying "I think people need to treat it - the park - with a bit more respect

because when we go fishing we have to take extra bin bags to clean up other people's mess and I know a lot of others in the v

illage who do the same." Here are some photos he provided of his family in the park.

These photographs were taken before the new fishing pegs were installed in 2013.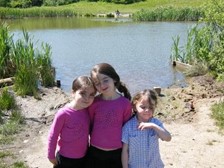 Some extra funding could really help to solve this issue and take the pressure off the people who go to visit the area and allow them to simply just enjoy their walk.
Shirley's artwork and photographs provide an example of how we can expect the nature reserve to look and can provide an aim for everyone in the village to strive for - a beautiful, clean nature reserve that is well looked after by all who go there.